Rich Pins are powerful because of the information they provide additional information, look aesthetically pleasing, and increase the amount of screen space the pin occupies. Rich Pins work by displaying metadata markups from your website in a human-readable manner. Once you're setup, content on your site with metadata will become a Rich Pin when someone saves it, pulling in the article headline, description, recipe, product info, site name, logo, etc.
WHY SHOULD I BE USING RICH PINS?
They're more relevant to your users, more useful and therefore more likely to be pinned, repinned (saved), or liked.
They'll update automatically when you change information on your site.
They occupy more of that valuable screen space
Rich Pins drive traffic to your site. Make sure to setup your Google Analytics to track this uplift

More traffic, more conversions!
But wait! There's more…
Using Rich Pins with your verified account means they will appear higher in search results. With detailed, well-crafted Pin descriptions you'll be bumped up even further.
Rich (Product) Pins are an especially valuable option for retailers. Pins with prices are proven to get more likes and you can even notify users when prices drop. This information is another way to get out of the way of your shopper, making it easier for them to buy your products with information on availability and location.
This is how a regular Pin and Rich Pin appear in feed: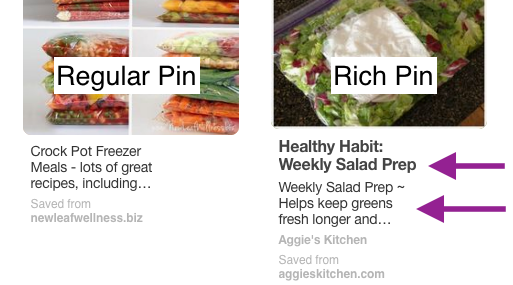 When expanded, the Rich Pin leads with the site name and article headline:

TYPES OF RICH PINS
Article Pins will pull in the article headline, description, and author when your article is pinned (by yourself or others) and presents it in a specific format.
Product Pins include real time product availability and pricing information.
Recipe Pins pull in the entire recipe section, showing ingredients, serving sizes, directions, etc.
Movie Pins provide cast information, ratings, and reviews.
Place Pins will include a map and location information.
App Pins give the option for someone to install the app, linking directly to the iTunes of Google Play app store.
Each type has a corresponding markup for your website that can be found in the 'Rich Pin Code for Your Site' section. The great news though is, many of the required markups are the same ones that Facebook uses – so your site might already be setup for Rich Pins!
If you're looking for examples or inspiration check out the 'Resources: Pin Examples' section 🙂
HOW TO SETUP RICH PINS
With business for Pinterest, getting started is easy. It's only two-steps so listen close:
Step 1:
Add Metadata to the content on your site, usually in Open Graph or Schema.org format. There's specific metadata for each type of pin; you can find the markups by looking at the "Rich Pins Code" section.
Many of these fields will be the same as what is required for Facebook, so using a plugin like YoastSEO can make this easier.
You can use more than one kind of Rich Pin on your site, they'll just appear in order of type priority which is as follows: App, Product, Recipe, Pins, Movie, Article, Place.
Step 2:
Apply! You need to get verified before your Rich Pins can appear. You only have to submit one of your pages (article, product, etc.) once and your entire site will become verified.
Pick a page you've tricked out with metadata, grab the URL (you only need to do this with one URL for your entire site) and validate it on the URL debugger page in the URL submit field.
After submitting a URL Pinterest will check to ensure that all of the markups are proper and indicate if there are any errors. It will look like this:
If any problems do appear (such as Site Name not pulling in) simply fix and check the URL again. Once you're ready to go just hit apply! and then your site will be processed for Rich Pins.
The process takes up to 24 hours, so check back later!
One thing to note, you only have to enter one non-homepage URL for your entire site to be verified.